course3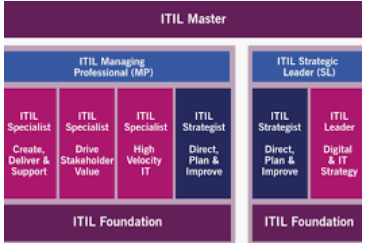 ITIL V4
ITIL V4 is new update of Agile, DevOps Lean as key focus areas of integration with traditional ITIL practices like software development and IT operations. We would say it's updation of many more topics rather than difference between the two. ITIL V4 is quiet vast topics than ITIL V3
---
ITIL Foundation level is the entry level qualification which offers general awareness of the key elements, concepts and terminology used in the ITIL service management lifecycle, including links between various lifecycle stages, the management processes used and their contribution to service delivery.
ITIL® qualification scheme provides a modular approach to the ITIL framework, and is comprised of a series of qualifications focused on different aspects of ITIL best practice to various degrees of depth and detail.
The tiered structure of the qualification offers candidates flexibility relating to the different disciplines and areas of ITIL and the ability to focus their studies on key areas of interest.
COURSE DESCRIPTION
ITIL is the worlds defacto framework for service management.
ITIL has helped thousands of companies and millions of professionals to deliver better IT services
ITIL4 is the latest framework to learn to help you grow your credentials among your peers.
More and more companies will move towards ITIL4 in coming years to make their IT services world class.
Target audience
Individuals at the start of their journey in Service Management
ITSM Managers and aspiring ITSM Managers
Individuals working in other parts of "IT" (digital, product, development) with strong interface with service delivery
Existing ITIL qualification holders wishing to update their knowledge.
COURSE BENEFITS
Benefits to Individual
Reliable IT services helps in increasing business productivity, efficiency and effectiveness.
Helps an individual to identify, plan, deliver and support IT Services to Business.
Makes aware about the Global Standard Best Practices.
Helps to communicate with the customer or client in common language.
Undergoing various ITIL processes will help an individual to understand the gaps very well.
Benefits to Organisation
Strategic Business Objectives can be achieved through aligned IT Services
Helps staff for better utilization of skills and experience which leads in productivity increase.
Customer Satisfaction
User as well as end-user perception is been improved.
COURSE OUTLINE
Understand the key service concepts
Understand how the ITIL guiding principles can help an organization adopt and adapt service management
Understand the four dimensions of service management
Understand the purpose and components of the ITIL service value system
Understand the activities of the service value chain, and how they interconnect
Know the purpose and key terms of 15 ITIL practices
Understand 7 ITIL practices
Course Duration
2 day
Exam Information
Multiple Choice Questions
No. of questions – 40
Pass mark – 65% or higher
Exam Duration – 60 Minutes
Certification by
PEOPLECERT
onals.